Maserati Sedan Comparison: 2023 Maserati Ghibli vs. Maserati Quattroporte

History of the Quattroporte and Ghibli
The Maserati Quattroporte entered the market in the early 1960's to meet the needs of drivers looking for all the comfort and features of a luxury sedan combined with the rich racing history and styling of Maserati sports cars. Maserati is a brand with a rich history in grand prix racing and many iconic race cars amongst its ranks. Maserati took its history of racing to eventually build engines and chassis that would become grand touring luxurious cars with styling established by some of the most respected names in the industry. The Quattroporte, Italian for "4 doors," is on its 6th generation and remains a pinnacle of luxury and performance.
The Maserati Ghibli was introduced in 1966 at the Turin Motor Show with a 4.7L dual-cam V8 and a 0-60 time of fewer than 7 seconds. There were multiple generations of the Ghibli as well, which was originally a 2-door coupe and sold throughout the 90's before being reintroduced in 2014. Today, the Ghibli offers something a little different in the world of luxury sedans and stands out from the crowd of German luxury cars with its impressive Italian styling, race-bred performance, and coupe-like handling.
What's the difference between the Maserati Ghibli and Maserati Quattroporte?
Those shopping for a high-performance luxury sedan will likely have both the Ghibli and Quattroporte on their list. The Ghibli has a smaller wheelbase at 118 inches (6.4 inches smaller than the Quattroporte) and a total length of 195.7 inches (almost a foot shorter than the Quattroporte). It also has a smaller interior with a more coupe-like driving experience. The Ghibli comes with a twin turbo V6 ranging from 345 to 424 horsepower. An ultra high performance model, the Ghibli Trofeo, is available with a 580 horsepower twin turbo V8. Those looking for something different in a world of grey, business-like conformity in the mid-size sedan category can get the bold and elegant Ghibli at a starting MSRP of $85,300.
The Quattroporte has a similar profile to the Ghibli but has increased interior space, a longer wheelbase at 124.8 inches and a total length of 207.2 inches, and an interior that's more traditionally luxurious as compared to the sporty, modern feel of the Ghibli. The Quattroporte is available in 3 different models: the Quattroporte GT, the Modena, and the Trofeo, each with varying options. Similar to the Ghibli, it is available with either a twin turbo V6 ranging in power from 345 to 424 horsepower or a twin turbo V8 with a heart-racing 580 HP. With a bit more spacious interior delivering a higher level of Italian luxury, the Quattroporte starts at $108,400 MSRP.
Both vehicles have incredible standard and available features like an 10.1-inch touchscreen infotainment system, fine leather, and advanced driver assistance features. Not to mention, the unmistakable exhaust note of a Maserati.
Interior and Exterior
Step inside the Ghibli or Quattroporte and you will find beautiful Italian styling with high-quality leather and ample technology features. Both feature hand-crafted finishes, ample legroom in the front and rear, and good headroom. The Ghibli's standard features include leather upholstery, 19-inch alloy wheels, a 10.1-inch touchscreen, Android Auto and Apple CarPlay integration, and a rearview camera.
The Ghibli and Quattroporte are both available in three trim levels: the GT, the Modena (which also has the option of all-wheel drive), and the Trofeo, which goes above and beyond to offer incredible performance and bespoke luxury, and is therefore reviewed separately. The GT includes comfort seats, while the Modena and Trofeo are fitted with sport seats. Both are 12-way power adjustable. Options across the lineup include Zegna silk and leather upholstery, painted brake calipers, premium audio from Bowers & Wilkins, and a range of wheels up to 21-inches in diameter. A range of interior trim options are offered as well, from open-pore Radica wood trim to racy carbon fiber.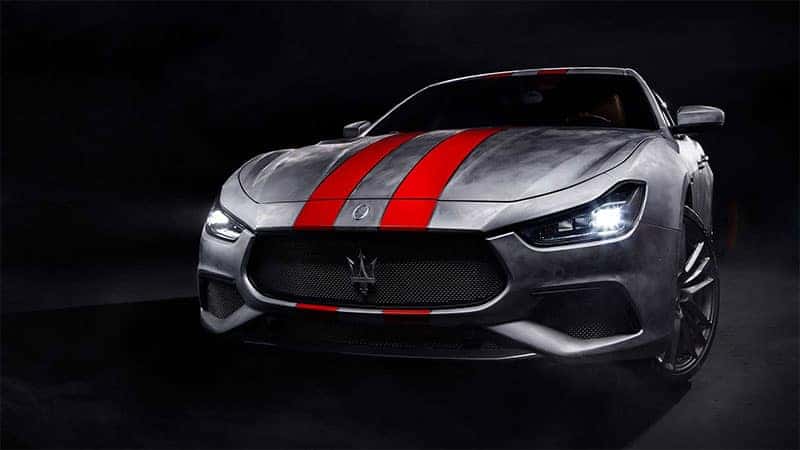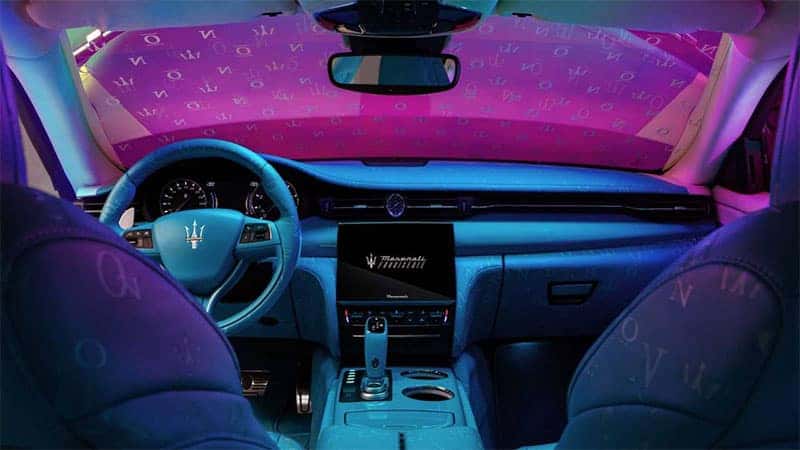 Maserati Fuoriserie Program
Both the Maserati Ghibli and the Maserati Quattroporte can now be customized and personalized as part of the new Maserati Fuoriserie Program. The Fuoriserie Program allows buyers to turn their next car into a one-of-a-kind, individualized creation that reflects their true self with special colors, designs, and materials that aren't available anywhere else. Select from three distinct themes to begin customizing your Maserati to suit your exacting specifications. Whether you choose to base your custom design on the race-inspired Corse collection, the fashionable Unica collection, or the futuristic Futura collection, your new Maserati will be as unique as you are.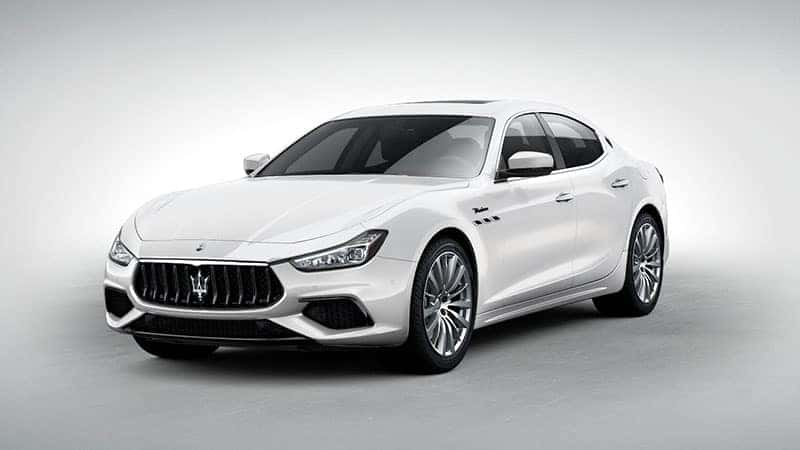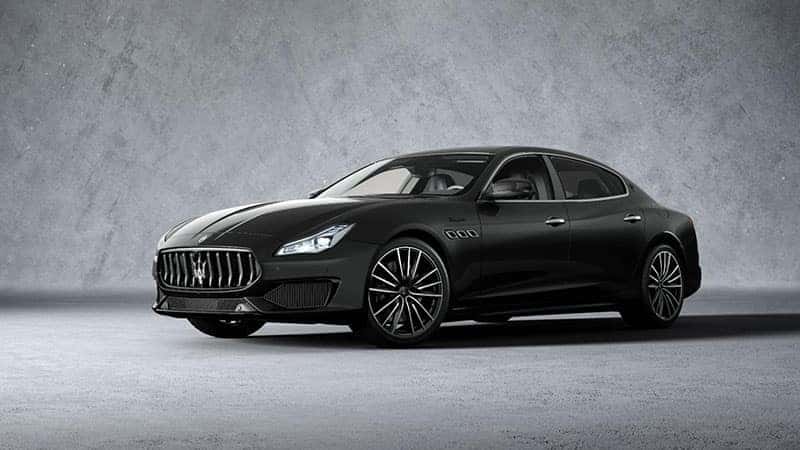 Maserati Ghibli vs Maserati Quattroporte
Dimensions & Capacities
| | | |
| --- | --- | --- |
| | Ghibli | Quattroporte |
| Length | 195.7 in. | 207.2 in. |
| Width | 76.6 in. | 76.7 in. |
| Wheelbase | 118.0 in. | 124.8 in. |
| Trunk Volume | 17.7 ft. | 18.7 ft. |
---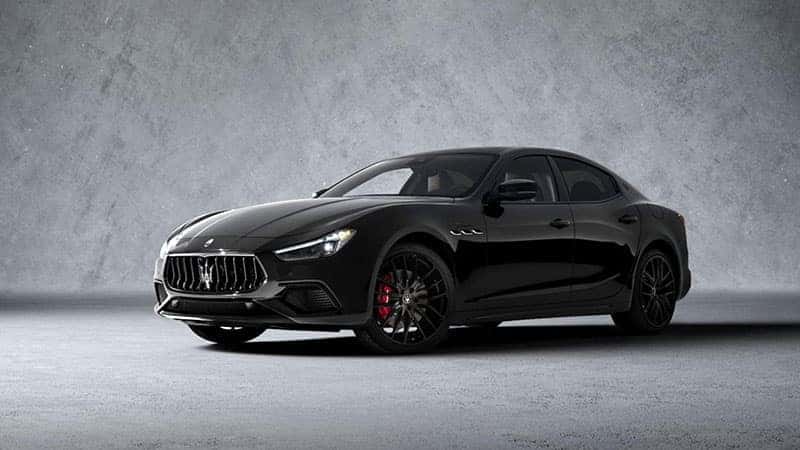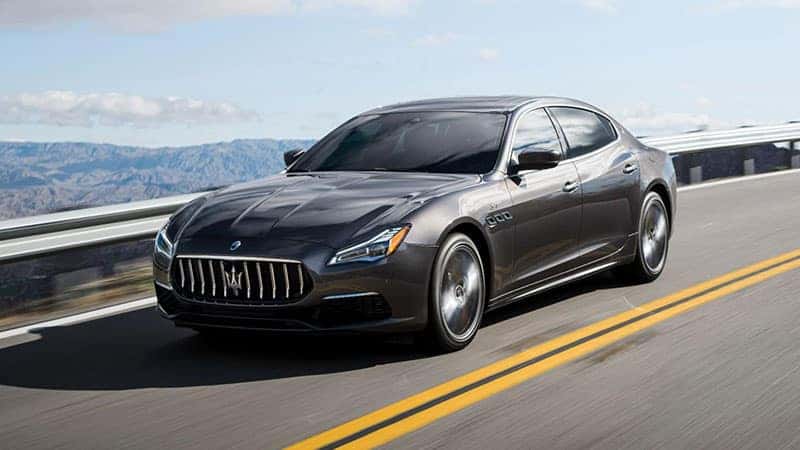 Maserati Ghibli GT vs Maserati Quattroporte GT
Performance
| | | |
| --- | --- | --- |
| | Ghibli GT | Quattroporte GT |
| Curb Weight | 3,990 lbs | 4,101 lbs |
| Engine | Twin Turbo V6 | Twin Turbo V6 |
| Max Power | 345 HP | 345 HP |
| Max Speed | 166 MPH | 166 MPH |
| Max Torque | 369 lb-ft | 369 lb-ft |
| Transmission | Automatic 8 Gears | Automatic 8 Gears |
Maserati Ghibli Modena vs Maserati Quattroporte Modena
Performance
| | | |
| --- | --- | --- |
| | Ghibli Modena | Quattroporte Modena |
| Curb Weight | 4,122 lbs | 4,189 lbs |
| Engine | Twin Turbo V6 | Twin Turbo V6 |
| Max Power | 424 HP | 424 HP |
| Max Speed | 178 MPH | 179 MPH |
| Max Torque | 428 lb-ft | 428 lb-ft |
| Transmission | Automatic 8 Gears | Automatic 8 Gears |
| 0-62 MPH | 4.9 seconds (4.7 with AWD) | 5 seconds (4.8 with AWD) |
If you've been searching for a sleek luxury four-door sedan with potent performance and an inviting interior, both the Ghibli and Quattroporte are sure to impress. Both models feature an intoxicating blend of performance and luxury in a package that offers far more than the sum of its parts. A Maserati offers the alluring, dynamic driving experience you'd expect from an Italian car, combined with the sumptuous comfort you deserve. A Maserati must simply be experienced to be understood. Maserati of Louisville invites you to come experience the Maserati Ghibli and Quattroporte in-person to see exactly which model best suits your lifestyle.