Maserati MC20 Engine

After months of anticipation, Maserati is excited to announce the debut of the new engine that serves as the beating heart of the exhilarating MC20 supercar. Just like the rest of the MC20, this all-new powertrain is 100% made in Modena, Italy. Known as the Nettuno, this groundbreaking engine represents the bright future of the Maserati brand.
About the Maserati Nettuno Engine
Following two decades of hiatus, Maserati has returned technological development and passionate design to its Modena HQ in Italy. There, a team of highly-skilled technicians and engineers have worked tirelessly to perfect the new powertrain for the upcoming MC20 — the Nettuno engine.
Protected by a number of international patents, the Nettuno features a unique V90° architecture for this 3.0-liter 6-cylinder twin-turbo engine. Derived from race-proven Formula-1 technologies, the Nettuno showcases both enhanced efficiency and pulse-pounding performance capabilities. Three of the most groundbreaking attributes are listed below.
Pre-chamber – A specialized combustion chamber is positioned between the central electrode and the traditional combustion chamber, connected by a series of specially-designed ports.
Lateral spark plug – When operating at a level that doesn't require the pre-chamber to engage, a traditional spark plug acts as a support system to maintain constant combustion.
Twin injection system (direct and indirect) – Connected to the fuel supply system, this process lowers noise at the bottom end of the rev range, reducing both emissions and fuel consumption.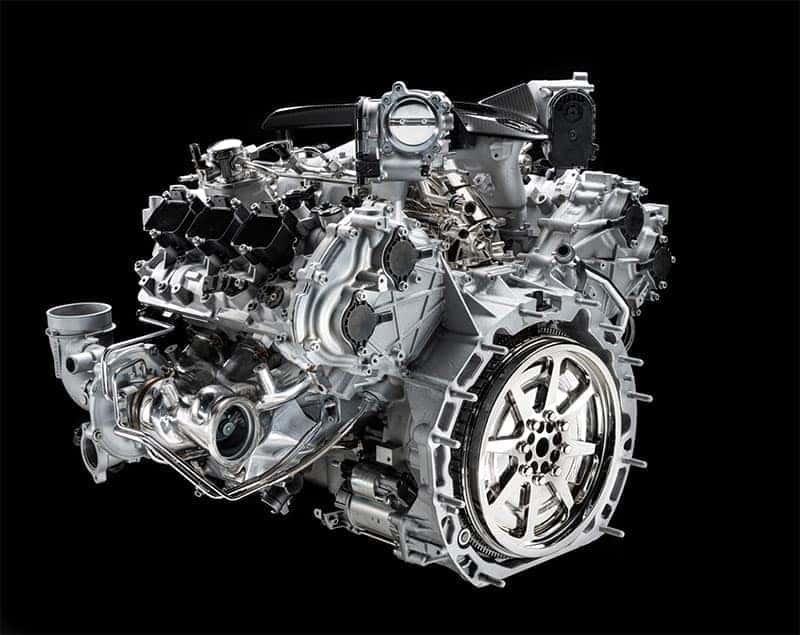 Maserati Nettuno Engine Specifications
| | |
| --- | --- |
| Max Horsepower | 621 @ 7,500 RPM |
| Max Torque | 538 LB-FT @ 3,000-5,500 RPM |
| Engine Architecture | V6 90° |
| Turbochargers | Twin Side Turbo with electronic actuated Waste Gate |
| Total Displacement | 3.0-Liters |
| Valvetrain & Timing | Double Over Head Camshaft with variable valve timing |
| Lubrication system | Dry sump with scavenge pumps & external oil tank |
| Firing Order | 1-6-3-4-2-5 |
Stay Informed on the All-New Maserati MC20